Art and Art History classes
The Art and Art History classes are an important part of our curriculum at MCH. This is an integrated curriculum, linking Art History, Geography and History classes, to introduce the idea that art and culture reflect a people and place. The art history classes are organized around a particular culture and geographical place. Each year we learn about a culture from each continent. Some of the cultures we have studied are the Ainu, Navajo, Sioux, Maasai, Yanomami, Incas, Inuit, Vikings, Hmong, Aborigines and Maori.
Each week, cultural lessons are presented to the Primary children, as well as more in depth classes and activities for Primary 3 and Elementary students. The primary and elementary teachers support this curriculum with activities, maps and books in the classroom.
General art classes are scheduled each week and begin with discussions, demonstrations, and visual resources. Children are encouraged to work toward original imagery, to respect the work of others, and to use materials appropriately while experimenting with various mediums.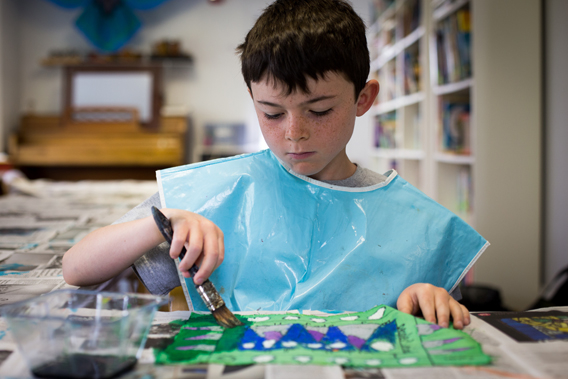 Chinese
Montessori Children's House offers Chinese language class each week for both Primary and Elementary students.
The Primary children learn traditional songs, stories, counting and greetings in Mandarin. Each month we focus on themes, such as animals, colors, or family members.
Understanding the Chinese culture is an important part of learning the language. We celebrate two important Chinese holidays: the Moon Festival and Chinese New Year. These occasions provide great opportunities to introduce children to Chinese culture and traditions.
The Elementary students practice classroom phrases, full sentences, and the entire pinyin table, which helps students with pronunciation. The older students also practice traditional songs, poems and stories.
Creative Movement
Creative Movement is an active program designed to help the children get moving while expressing their ideas. This program allows children to use all their senses with games, dance and dramatic play. We work to foster self-confidence and creativity within a safe, caring and non-competitive environment.
Class usually begins with a drum dance, where children are asked to match their movements to a variety of drum rhythms such as skipping, walking, marching, galloping, and running. Children then listen to stories and participate in activities that encourage memory, coordination, body awareness, balance and cooperation. Moreover, the children gain self-confidence and a deeper recognition of their uniqueness and the uniqueness of others.
Music
Successful music education utilizes and synthesizes many interdisciplinary skills. The Primary children sing and use instruments to develop an understanding of pitch and tone. The skills children are practicing in music also reinforce math skills through counting, patterning, producing a steady beat, and social skills such as audience etiquette. Music history from the Renaissance through our modern era is part of the curriculum. Students additionally learn pre-reading skills of musical notation for eventual recorder instruction at the elementary level.
The Elementary students learn tone discrimination, tempo, and creative vocal responses. In music theory, they learn to recognize and name symbols of musical notation.